Tom Hess: How To Drastically Improve Your Guitar Playing Using Circuit Training To Strengthen Your Guitar Practice
How To Drastically Improve Your Guitar Playing Using Circuit Training To Strengthen Your Guitar Practice
By Tom Hess
Want to transform your guitar playing skills while enjoying your practice sessions more than ever? Here's what you need to do: implement circuit training to
make your guitar practice a lot more effective
. Circuit training uses a combination of different exercises for a set duration of time.
Here is how circuit training will help you get much better results from your guitar practice:
1. It's a much more efficient use of your time. Instead of using a lot of time to work on just one technique, you work on several. This improves your guitar playing very fast.
2. It is enjoyable. Circuit training takes away the redundancy of repeating the same exact exercises over and over again.
3. It strengthens your guitar playing fluency. In order to use the skills you learn in actual music, you need to combine a variety of guitar techniques together. Circuit training is excellent for this.
4. It helps your mind maintain its focus. It is hard to concentrate when you play the same exercise over and over in a repetitive manner (your mind becomes bored). Circuit training rotates through different exercises, solving this problem. This also makes your guitar practice time more effective.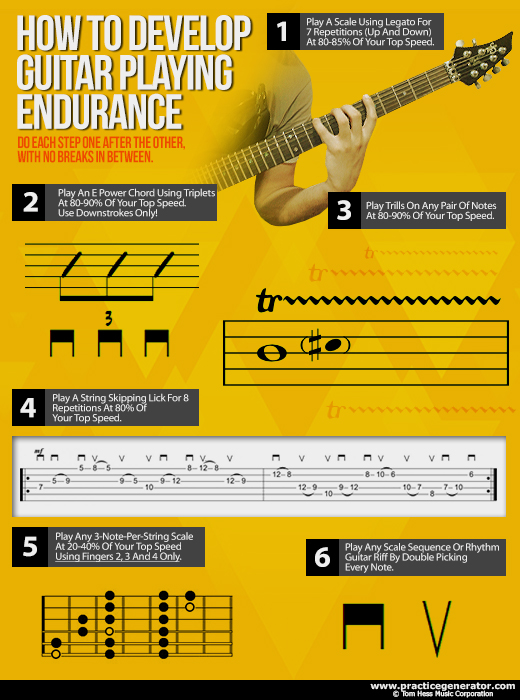 Here Is A Guitar Practice Training Circuit Example:
Warning:
Make sure you warm up your hands thoroughly before you start your practice session!
As soon as you have warmed up, complete these steps:
1. Run through an entire scale for seven repetitions while exclusively using legato technique at EIGHTY percent of your fastest speed. Note: one repetition equals playing through the scale one time both ascending and descending.
Now, quickly move onto the next step:
2. Playing at 85% of your maximum speed, use palm-muting to play a basic power chord with a rhythm of three notes per click (triplets) for 20 beats of the metronome. As you do this, limit yourself to only playing with downstrokes.
Now, quickly move onto the next step:
3. Playing at 85% of your maximum speed, use hammer ons and pull offs to play trills on any two notes of your choice (for best results, play in all areas of the fretboard). Additionally, switch to a different pair of fingers every 8 beats. Once you've used every combination of fingers at least 3 times, you are done.
Now, quickly move onto the next step:
4. Play any string skipping lick you can think of for eight repetitions at EIGHTY percent of your fastest speed.
Now, quickly move onto the next step:
5. Playing at 30% of your maximum speed, play through any 3 note per string scale while purposefully not using your index finger (you can only use your middle, ring or pinky) 3 times in a row.
Now, quickly move onto the next step:
6. Play a scale sequence or rhythm guitar riff of your choice while using double picking (picking every note two times) for a total of ten repetitions.
Continuously go through this circuit without stopping for 25 minutes.
Here Is How To Successfully Complete This Guitar Practice Circuit:
-As you play with legato technique, only pick the first note to be played on any given string. Then, use hammer ons/pull offs to play the rest of the notes.
-BEFORE you begin practicing, plan the exact exercise and metronome speeds you will need ahead of time. Avoid pausing between steps to think about which exercise to play next and which tempo you will need to set your metronome to. Have this written down in front of you and ready to go before you start.
-Try to take no longer than 10 seconds to transfer from one step to the next.
-After you've finished the circuit, move immediately back to step one and begin again.
-Get rid of any extra tension in your body as you practice. This is crucial for building up stronger endurance as you practice. This video will help you remove excess tension in your guitar playing:
-Never
play guitar if you experience pain! While it is normal to experience fatigue (a dull, burning sensation), it is not normal to feel sudden sharp stabs of pain... this is a sign that you need to stop immediately.
In summary, this circuit training approach should be used to compliment your guitar practice, NOT to replace it entirely. For best results, use it with other guitar practice methods to become a better guitarist even faster.
Use this circuit training method along with your usual practicing methods two times per week for 4-5 weeks total. You'll quickly see that your guitar practice is becoming more efficient and fun.
Discover how to
make your guitar practice a lot more effective
.
About The Author:
Tom Hess is a highly successful professional musician, guitar teacher and composer. With his
correspondence guitar lessons
, he has helped thousands of guitarists improve their guitar skills. To become a better guitar player go to
http://tomhess.net
and watch
free guitar video lessons
, learn about
effective guitar practice
, and read
guitar articles
.